HS2 Ltd has released an updated design for the new high speed railway terminus station set to be built at London Euston.
The new images display the concept design for the interior and exterior of the station and have been updated from the previous 2015 design.
Designs for the new station are based on a less complex, more efficient ten-platform station which can be built in a single stage.
A consortium of Arup, WSP and Grimshaw Architects worked with HS2's Station Construction Partner Mace Dragados JV (MDJV) on the new designs.
HS2 Minister Andrew Stephenson MP commented on the benefits the new station at London Euston will bring.
Mr Stephenson said: "The arrival of HS2 at Euston provides a once in a lifetime opportunity to create an iconic destination in the area.
"[This] will help us build back better by growing not just the economy of London but that of the UK.
"This station will not only benefit the local community… but will serve as a transport super hub acting as a gateway to the Midlands and the North.
"Enabling us to deliver better railways across the nation sooner than under previous plans."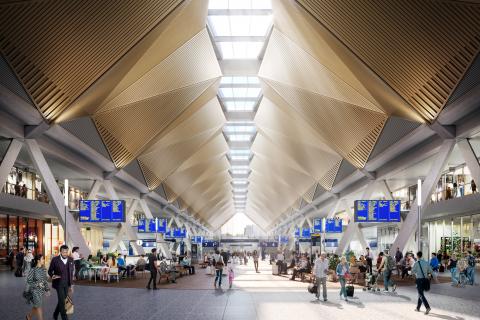 HS2 London Euston station interior design, image credit - HS2
The work at London Euston will ensure that the local community are an integral part of the development.
This will enable the creation of new affordable housing in the area along with bringing more businesses.
The project at London Euston will also create 3,000 jobs and create numerous contract opportunities through the supply chain.
This follows the recent announcement that HS2 will be offering summer placements to students based in the Midlands.
MDJV recently began a multi-year procurement of packages worth a total pf £500m for work on the HS2 station.
This will involve work on the London Underground station at Euston and Euston Square providing better connections for passengers.
Laurence Whitbourn, Euston Area Client Director at HS2 Ltd spoke on the developments set to take place at London Euston.
Mr Whitbourn said: "HS2's London Euston station is one of the most complex parts of the HS2 route, situated in a densely populated residential area.
"HS2 Ltd is absolutely committed to getting Euston right, engaging with the local community and stakeholders as we continue to progress our designs.
"With the arrival of HS2, Euston is fast becoming one of the largest transport-led regeneration projects of the 21st Century.
"Across a site of over 60 acres we have the unique opportunity to work with stakeholders and partners to create a new piece of the city.
"[This will create] thousands of jobs, new homes and areas of green public space."
A bold geometric roof design will also be a part of the construction of the new station allowing natural light into the station concourse.
Parts of the roof can be made off site using modular construction techniques which reduces costs, carbon emissions and local disruption.
Featured image - HS2