Grand Paris Express, one of the largest metro rail projects in Europe has enlisted Alcatel-Lucent Enterprise and Nokia to provide digital and technical solutions for the new metro.
The future subway includes 200 kilometres of new rail that will create four additional lines around Paris (lines 15, 16, 17, and 18) and extend the existing line 14. In addition, 68 new subway stations will be built.
The ambitious project is being undertaken with a €36.1 billion investment, partly from the French government and the remaining from local authorities.
Alcatel-Lucent Enterprise and Nokia will provide certified and integrated end-to-end mission-critical infrastructure for the Grand Paris Express including include a high-speed backbone network which includes the router portfolio to meet all the operation and maintenance requirements of the Grand Paris Express.
Alongside the high-speed network, modern video surveillance, air quality control vis IoT sensors will also be provided. Communication technology will be developed with a centralised control centre as well as automated stations, depots and lines.
Rukmini Glanard, Chief Business Officer at Alcatel-Lucent Enterprise: "We are very proud to partner with Nokia, to deliver state-of-the-art digital transformation for the Grand Paris Express smart mobility project. Together we will provide a certified mission-critical network, supporting carbon-free transportation. ALE is fully compliant with and committed to sustainable development regulations as defined by the UN Global Compact."
The Grand Paris Express features the core extension of Line 14, with a 5.8 kilometre tunnel, featuring four new stations which opened initially in 2020.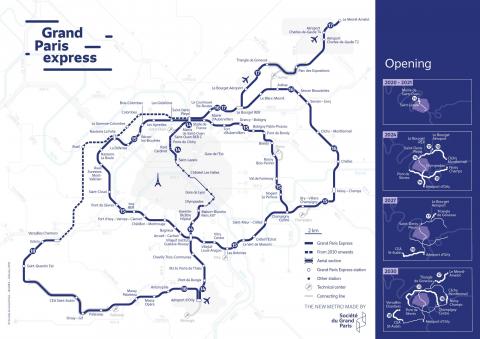 A 14 kilometre tunnel is the main feature of Line 14 South extension which will run from Paris's second airport -Orly, to Olympiades in central Paris. Line 15 will form a full loop and planned to be fully operational by 2030.
Nathan Stenson, Nokia vice president, global partner channel: "We are thrilled to strengthen the relationship with our technology and Go-to-market Distribution partner Alcatel-Lucent Enterprise, providing mission-critical end-to-end network architecture based on Nokia leading-edge IP/MPLS technology.
Photo Credit: Grand Paris Express / iStock