A collaborative effort between Northern and The University of Sheffield has resulted in the development of an innovative piece of technology, small enough to be fitted onto passenger trains, that clears leaves from the line.
A recent demonstration at the Wensleydale Railway has highlighted the effectiveness of this tech, meaning that the disruptions from fallen leaves to rail operations could soon be a thing of the past.
Rail lines are currently cleaned through the use of railhead treatment trains (RHTT), but there are limited numbers of these trains available to the network, meaning they aren't a viable solution to the problem across the entirety of the UK railways.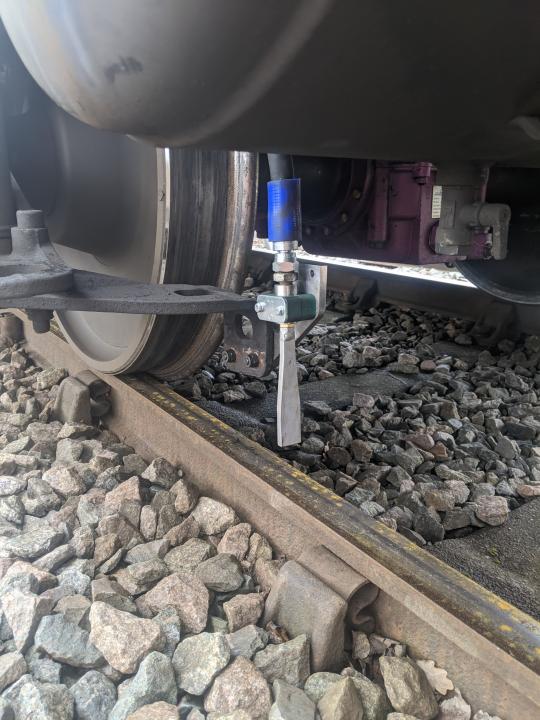 These units are also prohibitively expensive to run, so the implementation of this new, miniature leaf cleansing tech could supply operators with improved results via a much lower cost, saving the rail sector millions of pounds every year.
The new cleaning system, developed by researchers from the University's Department of Mechanical Engineering, works via firing dry ice pellets in a stream of air at supersonic speed at the railhead, resulting the freezing of the leaves stuck on the line, which are subsequently blasted away as the dry ice pellets turn back into a gas. The dry ice pellets themselves are provided from waste carbon dioxide from other industries.  
Professor Roger Lewis, who has led the team at the University developing the technology, said:
"This is a great example of a University testing and proving an idea in a lab based experiment and then scaling it up to be trialled and implemented in the field to make impact. This can only be done though good teamwork and having champions in the railway industry such as Rob and his team at Northern."
Northern's trials for this innovative tech are being funded through Network Rails Performance Innovation Fund. To conduct the performance testing, researchers have bought two retired Pacer trains, based at Wensleydale Railway, evaluating the efficiencies and design, whilst developing a plan for the system to be fitted throughout the Northern fleet in the coming year.
Rob Cummings, seasonal improvement manager at Northern, said:
"This is a gamechanger for the industry – the next step in finding a solution to tricky autumn conditions. 
"One of the biggest risks to our performance during October and November is 'leaves on the line', but by helping to develop new innovative technology we aim to deliver the very best service for our passengers."
Want to know more about the opportunities to become a key supplier to the UK rail industry? Attend TransCityRail and access an exclusive marketplace of buyers from Network Rail, HS2, Train Operators, Major Contractors, and all other tiers of the supply chain. For more information and to secure your place click here.