The launch of Salisbury station's new cycle hub has seen representatives of South Western Railway (SWR), Wiltshire Council, Wiltshire College and University Centre and Co Bikes attend to celebrate the first phase of forecourt improvements which SWR will be part-funding through their Customer and Communities Improvement Fund.
This environmentally friendly project has seen the delivery of 74 cycle parking spaces and an e-bike docking station, being officially opened by Cllr Tom Corbin, Mayor of Salisbury, who happens to be an SWR train driver himself.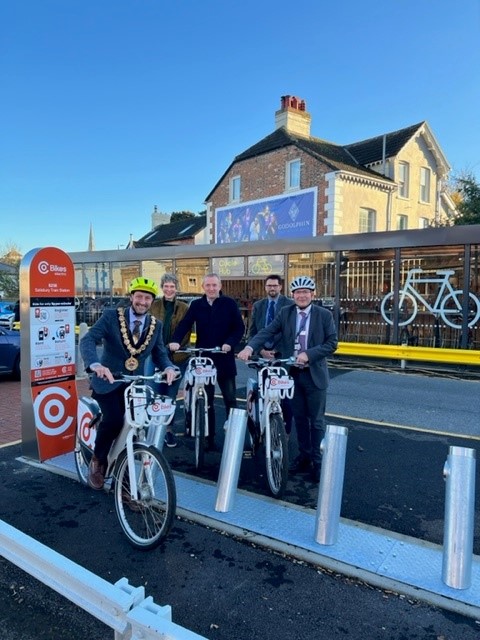 This £360,000 addition to the station is a prime example of SWR being committed to bringing increased sustainable travel options to stations across its network, especially in the West of England, as it joins the e-bike facilities available at Cranbrook, Honiton, Pinhoe, Exeter Central and Exeter St Davids stations.
Andrew Ardley, SWR's Regional Development Manager for the West of England, said:
"Rail travel is one of the most environmentally friendly mass transport options and so SWR is delighted that this project is now a reality, giving customers using Salisbury station sustainable and practical travel options for their onward journey as well as a secure place to store their own bikes. This scheme is only the first stage of a much bigger improvement planned for the forecourt'.
In accordance with SWR's ambition to reduce the number of unnecessary car journeys in the UK, Wiltshire College and University Centre is installing a Co Bikes docking station at its Salisbury Campus to improve the green travel offer for students and staff arriving at the station. This is will hopefully be the first of many across Salisbury and the surrounding area to link up with the station.
Cllr Dr Mark McClelland, Cabinet Member for Transport, said:
"We're really excited that the new cycle hub and e-bike docking station is now open providing visitors and residents viable, environmentally friendly alternatives to the car for their journey to and from Salisbury railway station.
"A key part of our business plan is investment in cycle routes to connect our local communities and to provide options for different modes of transport. To outline our commitment to this, we have put in a Department for Environment, Food & Rural Affairs (Defra) bid for a further three e-bike hubs in Salisbury."
Want to know more about the opportunities to become a key supplier to the UK rail industry? Attend TransCityRail and access an exclusive marketplace of buyers from Network Rail, HS2, Train Operators, Major Contractors, and all other tiers of the supply chain. For more information and to secure your place click here.