Major rail upgrades are set to take place in the Cambridgeshire area over the autumn months, affecting passenger services via Cambridge station on most weekends.
The work will include the construction of the new Cambridge South station, the replacement of ageing signalling equipment, and essential maintenance work.
The new Cambridge South station will provide access to a growing area of high-quality employment including to the Biomedical Campus on the outskirts of the city and will form part of the new East West Rail scheme. It is expected to help relieve congestion in the local area with the station scheduled to open in 2025.
The plans also include remodelling the existing layout and adding two additional track loops to accommodate the new four-platform station as well as prepping the section for eventual electrification.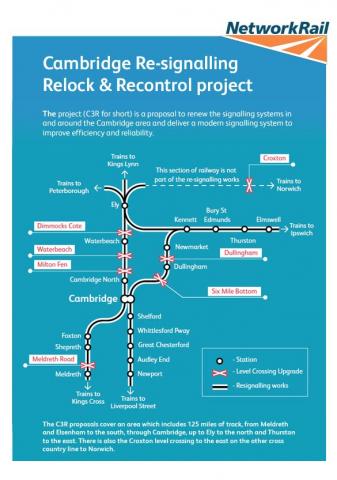 The signalling work is part of a wider project to upgrade the signalling system in the Cambridgeshire area which will include upgrading seven level crossings, relocating control of the signalling in the area to Cambridge power signal box and a full upgrade of the interlocking equipment with modern signalling technology. 
Once the Cambridge Re-Signalling project is completed, it will have replaced and upgraded over 700 signalling assets across the regions network.
At the same time, essential maintenance work will be undertaken including track renewals, drainage work, and surveys of the infrastructure.
Katie Frost, Network Rail's route director for Anglia, said: "There is a never a good time to close a busy railway, but to keep our construction teams safe, we have to stop trains running so that these important works can take place.
"As well as the construction of Cambridge South station and the huge re-signalling renewal programme, we're using the time on track efficiently to also undertake essential maintenance work and surveys of our infrastructure.
"We appreciate the inconvenience this will cause to passengers and we thank them for their patience and understanding while this work is carried out."
Jamie Burles, Greater Anglia managing director, said: "This improvement work is extremely important to help maintain the safe and reliable running of the railway - we would like to thank customers for their patience and understanding while this work is carried out."
Photo Credit: Network Rail