Wolverhampton's new West Midlands Metro extension will open to passengers on Sunday, 17 September. The £50 million extension creates two new tram stops at Pipers Row and Wolverhampton Railway Station, offering seamless connections to bus and train services.
The extension is part of a wider £150 million investment in the city centre, which includes the construction of a new bus station and the redevelopment of the railway station.
Laura Shoaf, chief executive of the West Midlands Combined Authority (WMCA), said: "This is a major milestone for the West Midlands Metro and for Wolverhampton. The extension will make it easier for people to travel around the city and will help to boost the local economy."
John Roseblade, director of resident services at Wolverhampton City Council, said: "The extension of the Metro to the railway station is a key part of our plans to improve connectivity in the city centre. It will make it easier for people to get around and will help to attract more visitors to the city."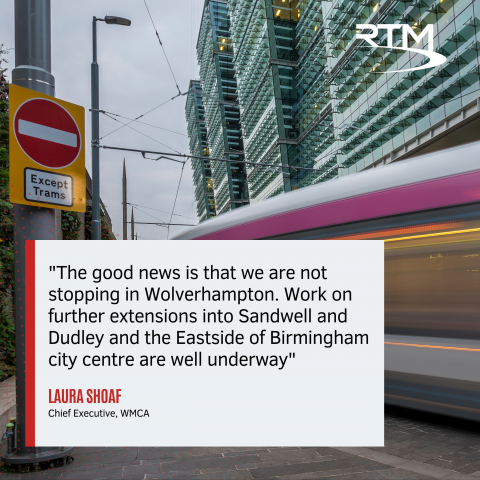 Sophie Allison, interim managing director of West Midlands Metro, said: "We are delighted to be opening the new extension to passengers. It is a significant investment in the city and will provide a much-needed boost to public transport in Wolverhampton."
The extension will operate every 10 minutes between Pipers Row and Wolverhampton Railway Station. Services are expected to return to the current St Georges terminus later this autumn.
The investment on the new line in Wolverhampton is the latest line extension in the wider West Midlands area. Work is currently underway on the extension towards Dudley and Brierley Hill. That line is expected to open in 2024.
Work is also continuing on the Birmingham Eastside extension in the city centre, that will include four new metro stations and connections to key stations, including New Street , Moor Street and the new HS2 station.
The new line will be running with new Urbos 100 trains, built by Spanish rolling stock manufacturer, CAF. WMCA ordered new sets for the network in 2022, and have been gradually replacing the older Urbos 3 sets which had reported cracks in the body work.
Photo Credit: West Midlands Combined Authority