The governments of the Republic of Ireland and Northern Ireland have unveiled a €35bn (£29.2bn) plan to upgrade and build railways across the island.
The ambitious All-Island Rail Review was put together by Arup on behalf of Northern Ireland's Department for Infrastructure and the Republic of Ireland's Department of Transport.
The plan would see the construction of new high-speed lines connecting Dublin and Belfast, as well as improved connections between other major cities and towns on both sides of the border.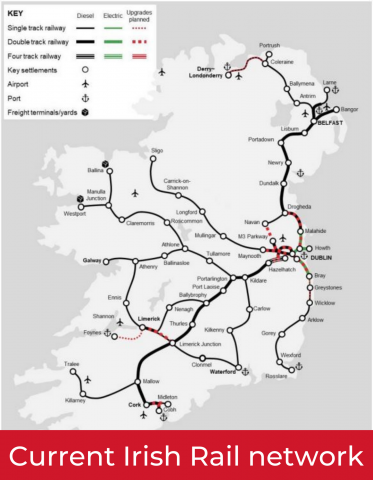 It would also include the electrification of existing lines, the introduction of new rolling stock, and the development of new stations.
The review says that the plan would create up to 40,000 jobs during construction and up to 10,000 permanent jobs once it is completed. It would also reduce carbon emissions by 1.5 million tonnes per year and improve air quality.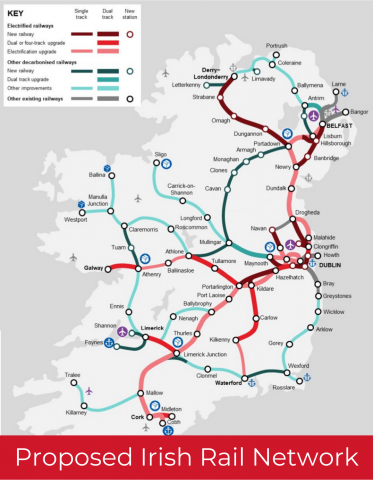 Ireland's Minister for Transport, Climate, Environment & Communications Eamon Ryan commented that 'in the 1920s, Ireland had one of the best rail networks in the world. We're reviving that network with new lines for people and freight, half-hourly frequencies, higher speeds, electrification and an all island approach.'
Goals of the plan:
Improve All Island Connectivity between the seven major cities of Belfast, Cork, Derry/Londonderry, Dublin, Galway, Limerick and Waterford as well as improved connections between other major cities and towns on both sides of the border.

Contribute to decarbonisation

Enhance Regional and Rural Accessibility

Encourage Sustainable Mobility

Foster Economic Activity and contribute towards a balanced rural and urban economic growth
The report provides 30 recommendations that range from developing electrified routes on inter-city lines using battery or hydrogen trains where short journeys are possible.
It also suggests enhancing certain areas to double track or four track sections. It is hoped increasing the capacity on certain inter-city lines and increase frequencies. The report does stop short of recommending a high-speed route with speeds of up to 300km/h as costs, it believes would be excessive.
It also provides multiple recommendations for regional and rural line upgrades. It recommends developing short sections of new alignment in congested corridors along with increasing line speeds to at least 120km/h.
What next?
The report is now out for consultation with the review expected to be published at the end of the year.
The Governments will conduct feasibility studies for recommended projects within the plan and a phased approach for delivery is expected to be outlined once the studies have been completed.
Photo: Irish Government