The rail regulator, the Office of Rail and Road (ORR), has called on Network Rail to work with the industry to improve train performance.
In a report published today, the ORR said that train performance on the UK's railway has declined in recent years, and that this is having a negative impact on passengers.
The report found that the percentage of trains arriving on time has fallen from 88% in 2017-18 to 82% in 2021-22. The ORR also found that the number of delays caused by Network Rail has increased in recent years.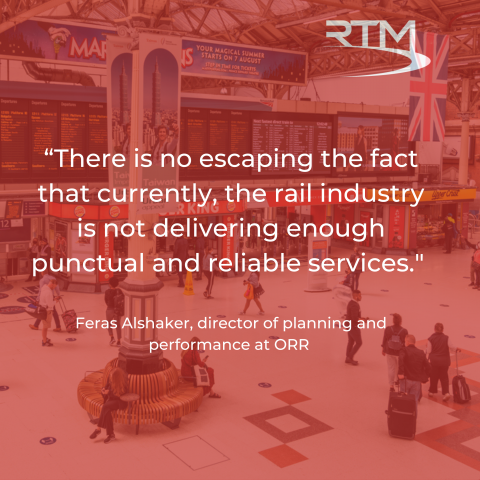 The regulator has said that Network Rail should:
Invest in its infrastructure: Invest in its infrastructure to make it more reliable. This includes investing in track, signalling, and stations.

Work with train operators: Network Rail needs to work with train operators to improve the way that they plan and deliver services. This includes working together to reduce the number of delays caused by engineering works.

Be more transparent:  Needs to be more transparent about its performance. This includes publishing more information about the causes of delays and cancellations.
The ORR has said that it will continue to monitor Network Rail's performance and will take action if the regulator is not satisfied with the progress that is being made.
Feras Alshaker, director of planning and performance at ORR commented: "There is no escaping the fact that currently, the rail industry is not delivering enough punctual and reliable services. Our report highlights that Network Rail needs to make assets like signalling and tracks more reliable, build more resilient timetables, and recover from incidents more quickly.
"There aren't simple, quick, fixes, and there are still challenges, and it is good to see that Network Rail and the wider industry is pulling together to address the difficult issues. For passengers and freight users these improvement plans must be delivered on now, and we will step in if we do not see sufficient progress."
As well as calling on Network Rail to improve its performance, ORR revealed that Network Rail Scotland had fallen behind its work to renew the railway network, with only 69% of planned works delivered.
However, Network Rail Scotland faired better than south of the border with reliability as it remained the best of all of Network Rail's regions. And whilst the region had missed its target for freight performance, ORR had acknowledged improvements had been made.
Photo: Istock
Want to know more about the opportunities to become a key supplier to the UK rail industry? Attend TransCityRail and access an exclusive marketplace of buyers from Network Rail, HS2, Train Operators, Major Contractors, and all other tiers of the supply chain. For more information and to secure your place click here.