Paragon of the UK rail sector supply chain, the Railway Industry Association (RIA), has officially launched its Unlocking Innovation 2023 events, with a programme filled to the brim with topical events and activities throughout the year.
This programme is supported by Network Rail's R&D Portfolio and the UK Rail Research & Innovation Network (UKRRIN), of which RIA is a founding member. With four events outlined for the first quarter of the year, with a notable inclusion being an Unlocking Innovation - Rail Freight event, taking place in Doncaster on 22 February. 
Acting as the jewel in the rail innovation programme's crown, the award-winning RIA Innovation Conference (RIC) will be returning to Nottingham this March, between the 28th and 29th, with the theme centred around "Delivering the Benefits of Innovation." This year's iteration of the conference will see the exciting new features that include 'Exhibitor Spotlight' and 'Student Challenge' sessions.
2023 will also see the RIA will launch the third Innovation Perception Survey, designed to provide better understanding of the current state of UK railway innovations, with the results being shared at the RIC.
The RIA are also set to launch a 'Data & Digital Capabilities for Rail' report further into the year, attempting to identify the existing gaps within railway policy around data and digital, along with opportunities for the supply chain, culminating with the establishment of the RIA lobbying 'asks' within this area.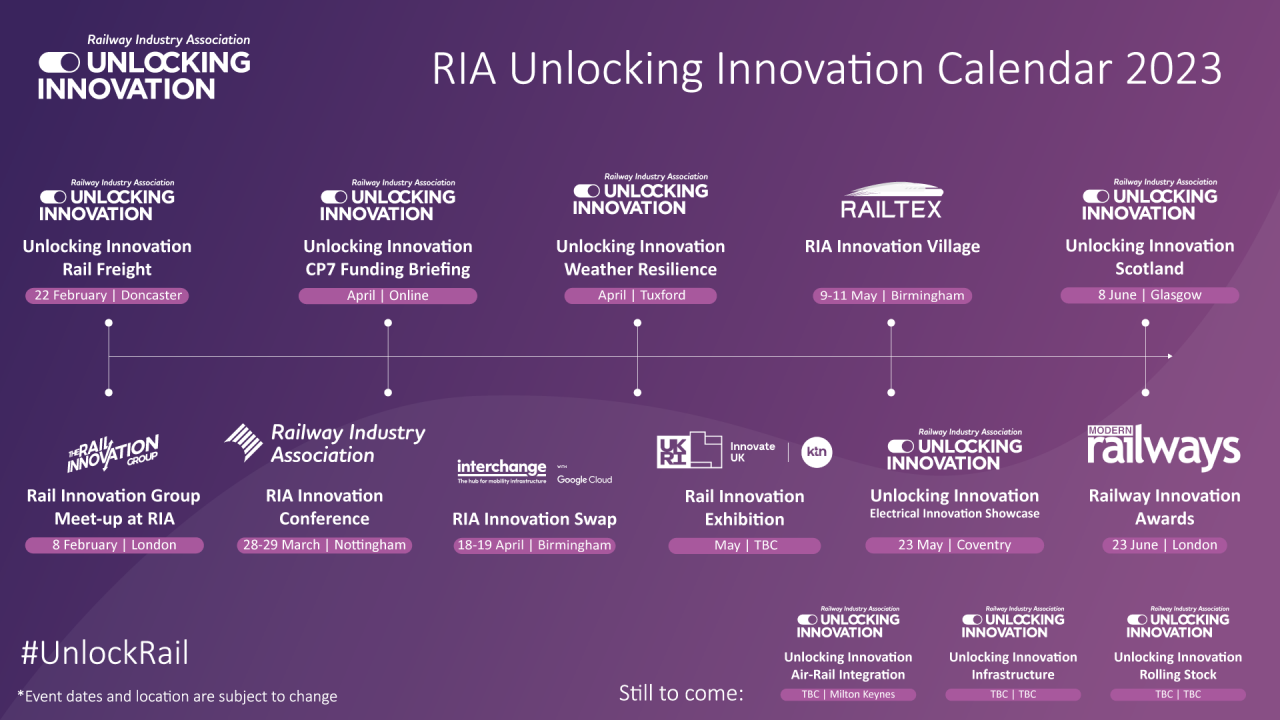 Milda Manomaityte, RIA Innovation Director, said:
"2023 is going to be a significant year for UK rail, with travel and freight movements continuing to recover strongly since the pandemic, the industry preparing for the Control Period 7 (CP7), and Rail Reform looming. 
"With such a busy backdrop, we must not lose sight of the importance of innovation, and this year we have designed a programme that will highlight the benefits of continuous investment in research, development and innovation.
"We would like to invite all innovators, whether they already work with railway clients or are considering exploring the potential of rail, to engage with RIA's Unlocking Innovation programme. And we look forward to working with them closely in the weeks and months ahead!"
Want to know more about the opportunities to become a key supplier to the UK rail industry? Attend TransCityRail and access an exclusive marketplace of buyers from Network Rail, HS2, Train Operators, Major Contractors, and all other tiers of the supply chain. For more information and to secure your place click here.