The Office of Rail and Road (ORR) is holding a consultation period on the framework for its policy to hold Network Rail to account ahead of the upcoming control period 7 (CP7), whilst also supplying the final determination of its 2023 Periodic Review (PR23). 
The upcoming CP7 will see the injection of £44bn worth of funding, spread between April 2024 to March 2029, with the new settlement allowing small increases in expenditure on Operations, Maintenance and Renewals (OMR) of the railway.
This framework establishes the regulator's performance indicators and how these will be monitored, whilst also outlining enforcement action to ensure that Network Rail delivers its business plans for 2024-2029 to optimise the experience of passengers and freight users whilst ensuring the infrastructure owner harnesses the full potential of taxpayer funds.
These policy updates come as an enhancement to the previous iteration, with the notable new approaches, such as a new outcomes framework, which will see the decrease in reliance for scorecard measures and targets.
There is a new outcomes framework that affords less reliance upon scorecard measures and targets for monitoring, a new tiered outcomes framework with a set of headline success measures that will be used for public reporting against Network Rail's performance across CP7.
New non-exhaustive indicative criteria will be used to assess whether there is a practical need to increase monitoring or whether formal investigations are needed to determine if Network Rail has breached its license.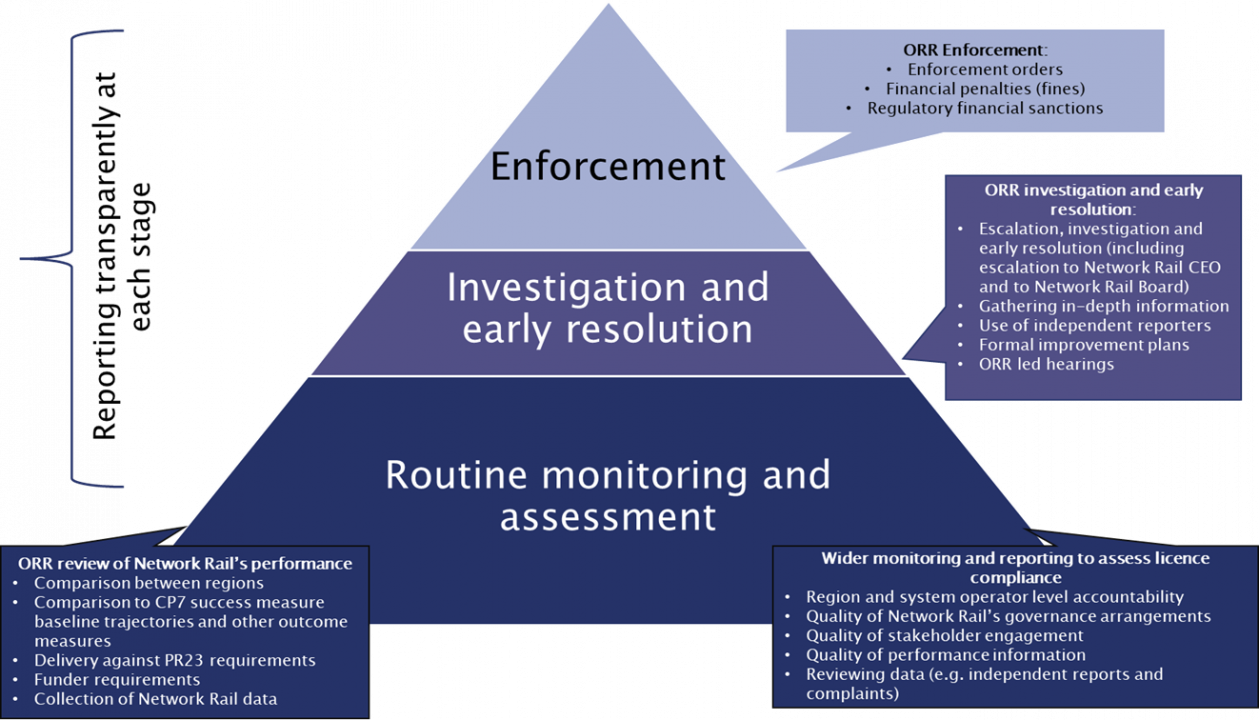 There is currently a consultation period for on this draft policy, with a closing date of the 9th June, with plans to publish the final document following the PR23 determination, which is expected in October 2023.
Want to know more about the opportunities to become a key supplier to the UK rail industry? Attend TransCityRail and access an exclusive marketplace of buyers from Network Rail, HS2, Train Operators, Major Contractors, and all other tiers of the supply chain. For more information and to secure your place click here.